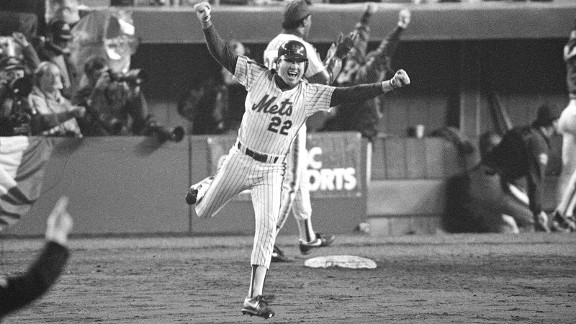 Ray Knight wins MVP of the 1986 World Series (Photo Courtesy of ESPN)
Frank Gray
MM Editor
This week we prepare to watch the Mets pitchers report to Spring Training. That time of year always brings back nostalgia. When seeing newly acquired pitchers don the orange and blue or a catcher sport that "NY" logo, there are not many other feelings that compare.
With that said, this week's installment revisits with a few names from the past that invokes that type of reaction. We have a cone head, a shiny Knight and we'll be keeping up with the Jones' this week.
February 11, 1987-
On the strength of a freshly minted World Series MVP trophy, Ray Knight uses that leverage to talk the Baltimore Orioles into a bigger payday than the Mets would offer. The Mets want to re-sign Knight for just one year at $800 K.
The Orioles offered only $450 K but a contract that added incentives and an extra year. Knight would go on to hit for a .256 AVG and 14 homers and playing one final year in Detroit before hanging up his cleats to manage. Today, he broadcasts games for the Washington Nationals.
February 13, 2003-
The Mets inked long-time pitching great, David Cone, to a minor league contract with an invite to Spring Training, thus luring him out of retirement.
After winning five rings with other teams, throwing a perfect game and posting a career record of 194-126 and a career 3.36 ERA to go with his 2,668 strikeouts, Cone sets his sights on being the fifth starter in a beleaguered Mets rotation.
The former Mets hurler pitched for the team from 1988 to 1992. He looks to add to his 80-48 Mets record. After his body
gives him signs
that its' over, he reconsiders and re-retires. Afterward he would go into broadcasting across town for the New York Yankees.
February 15, 2001-
On this date, former first round draft pick and All Star, Bobby Jones turns down arbitration with the Mets that would be worth roughly between $2 to $3 Million. He decides to wait the Mets out for a better offer.
The team goes in another direction and signs Steve Trachsel for a two year deal, thus, appearing to sever ties with Jones. Jones would then settle for a deal
worth considerably less
with San Diego. Born and raised in California, Jones returns to his home state for a mere $625 K.
He would be out of baseball after pitching for the Padres for just two seasons. Jones would finish his career with a 89-83 record (74-56 with the Mets) and 887 career strikeouts (714 with the Mets). After his career, he returned home to Fresno, CA and went into the
restaurant business
.